Emma Watson on the Cover of "IO Donna" and "Nylon"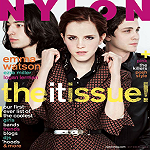 Oct 08, 2012
As The Perks of Being a Wallflower hit Italian movie theaters, Emma Watson was featured on the cover of Italian magazine IO Donna, as well as Nylon with her Perks co-stars. Each magazine featured short interviews with Emma Watson. IO Donna magazine reported (translated from Italian–excuse the kinks):
The little Hermione disappeared. And with it the magical world of Harry Potter. Thrown away the sweaters made in irons, the great mass of hair and that air serious and reliable, Emma Watson is now presented in post-adolescent version: restless, rebellious and sexy. We are at infinity, written and directed by Stephen Chboski (author of the bestseller published in 1999) has the role of an adventurous teen high school in Pittsburgh. It does not end here: in The Bling Ring, the new film by Sofia Coppola (true story of a group of rich teenagers of Los Angeles who plunder, for fun, the homes of stars such as Lindsay Lohan, Orlando Bloom and Megan Fox), the Watson is a thief to Bonnie Parker – that of Bonnie & Clyde – but with the California style of today, goggles and sunglasses looking bored. Gettonatisisma, the actress is turning twenty-two hours Noah, starring Russell Crowe and Anthony Hopkins, directed by Darren Aronofsky.
A film that, despite the theme (and the biblical Noah built the Ark), does not promise to be a certain section of the catechism.
Bad girl on screen, Emma neither in private life continues to study at prestigious universities such as Brown and Oxford (graduating next year), where – support – can live an almost normal life, away from the paparazzi. Elegant in a black dress cut sophisticated, it is pleasant, interesting and – why not?– Well educated.
Finally a role to rebel after years of Hermione, for her to be a breath of fresh air.

He does not know the joy. I was at Brown University, where I received the script for We are infinite. I read it and I found myself with tears in my eyes, do not even know why. I immediately called my agent. And when I met Logan (Logan Lerman, who plays Charlie, the shy guy and clumsy, ed), extraordinary, that I doubt they could stay?
Charlie is a creature introverted and isolated.
She has always lived in the spotlight, surrounded by thousands of people, have you ever felt so alone?

I grew up working on the set of Harry Potter, a world quite isolated and sui generis not hard for me to understand the character of Charlie.
Like him, I felt a constant desire to be accepted, to feel normal.
It is not that he decided to make this film to experience an American high school?

And yes: I did a crash course in high school! In seven weeks I focused everything I had ever done: dancing, games, fraternities.
A perfect voyeuristic experience.

We are infinite is also a story of acceptance and love.
What struck you in particular?

When I read the script, I tried different emotions. No one had ever explained, for example, that an appointment does not have to be a dramatic encounter, a love story in the Romeo and Juliet. You can also decide who to give your love. You can choose. I know it's a cliché, but if you learn to love you, to accept you, to respect you, you can really find true love, and someone who will prosper.
For me it was a revelation (and immediately found the "right" person: Will Adamowicz, his fellow student at Oxford, ed.)
It means that now you feel better?
I only recently learned to feel good in my skin.
The sad thing is that no one can teach you anything, only learn from your experiences.

Let the curiosity: she is so popular among teenagers who, when she cut her hair, has sparked a war on internet forums.
There were those who did not recognize anymore.
I'm glad that I can see in a new incarnation, so I can change, to grow. I was, to say the truth, a little shaken by such a fuss, but it's always flattering to be on the minds of my fans.
I needed, however, to get rid of Hermione.

I know a lot of fame and notoriety. And he knows very well Sofia Coppola.
How was it working together in The Bling Ring which addresses, in fact, the theme of obsession with celebrity?
Sofia, as the daughter of Francis Ford Coppola, of course, has always been under the spotlight, whether he would or not … So of course, this is a subject he knows well. To me, in fact, was most interested in acting for her beautiful writing great roles for us women. Nicky, my character is dark, fascinating. Sofia describes and gives her life without false morality, literally obsessed with the cult of celebrity, the charm of material values, the status symbol. It is a reality that I struggle to understand the role forced me to slip into the shoes of a character who is my opposite. I mean, an English like me who plays that kind of girl in Los Angeles? Yoga instructor and pole dancing, with its juices to detox and "cleanse" the body?
Mine was an extraordinary experience.

Yes, it's not really the style of Brown or Oxford.
At what point is with his studies?
I'm missing a half to finish at Brown. And I studied English literature at Oxford for three quarters. I'm at the halfway point.
In November I finish shooting Noah, Christmas with my step and then off to college.

And Noah?
Academician to the Bible.

Darren wanted to make this film for years. It will be a Bible, yes, but in its style: it could be thousands of years ago and is set in the future … You Aronofsky, will not you tell us that mica Bible in a conventional way?
Nylon stated:
Emma Watson on taking on a cult classic:
"Whatever people might think about it, whatever criticisms they have, all three of us were so vulnerable–all three of us really gave it everything we could and everything we had, and all three of us went into the movie terrified and very much aware of what this book means to people. "
Ezra Miller on what The Perks of Being a Wallflower meant to him:
"I felt like I had certain pieces of art that were almost body armor [¦] it was the only protection or salvation available–these few films, few books, few albums–and Perks was very much one of them. When I heard that they were making it into a movie…I was like, 'What the f**k is going on?!' Sign of the apocalypse number 104,436! That just can't go right. But it was sent to me and it said 'Written and directed by Stephen Chboksy,' and it was like a switch flipped when I read that."
Emma Watson on growing up in the spotlight:
"I've done my life backwards; it's really bizarre[¦] Most of my friends are just about to start working, and I've had a job for the past 10 years. It's strange, because most people spend that decade figuring themselves out and figuring out what they like and what they don't like–just making mistakes in the privacy of their own teenage bedrooms. And I am kind of doing everything in a different way, so sometimes it's a bit isolating."
Logan Lerman on making a movie he can be proud of:
"I don't wanna make any more stupid films–I've done a few of those! I realized I had to do some films in order to do the films I wanted to do. Because there's a whole game in trying to work yourself to be in a position that you can make films that you want to make."
Emma Watson on becoming a multi-hyphenate:
"I think the line between what being an actor is and what being a celebrity is has gotten so fuzzy that people don't even know what we do anymore. Models are actresses and actresses are models and actresses are designing sofas and it's crazy. I don't know if it will change, but I'm going to try to do this the right way.