New York Times Talks to J. K. Rowling About Books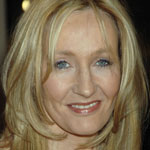 Oct 11, 2012
The New York Times has a very interesting interview up with J. K. Rowling where she answers a lot of book related questions. She names her favorite literary heroine (Jo March from Little Women) as well as what literary character she would most like the be (Elizabeth Bennet from Pride and Prejudice). Rowling also discusses what writers she would like to meet and what books she would take with her to a desert island:

If you could meet any writer, dead or alive, who would it be? What would you want to know?
I took this question so seriously I lost hours to it. I went through all of my favorite writers, discarding them for various reasons: P.‰G. Wodehouse, for instance, was so shy that it might be a very awkward meeting. Judging by his letters, his main interests were Pekingese dogs and writing methodology. As I don't own a Peke I've got a feeling we'd just discuss laptops rather than exploring the secrets of his genius.
I finally narrowed the field to two: Colette and Dickens. If Colette were prepared to talk freely, it would be the meeting of a lifetime because she led such an incredible life (her biography, "Secrets of the Flesh' by Judith Thurman, is one of my all-time favorites). By the narrowest of margins, though, I think I'd meet Dickens. What would I want to know? Everything.
…
If you could bring only three books to a desert island, which would you pack?
Collected works of Shakespeare (not cheating " I've got a single volume of them); collected works of P.ˆG. Wodehouse (two volumes, but I'm sure I could find one); collected works of Colette.
Rowling also discusses what book she would most compare The Casual Vacancy to:

So many children's books today try to compare themselves to Harry Potter. If your new book, "The Casual Vacancy' were to be compared to another book, author or series in your dream book review, what would it be?
"The Casual Vacancy" consciously harked back to the 19th-century traditions of Trollope, Dickens and Gaskell; an analysis of a small, literally parochial society. Any review that made reference to any of those writers would delight me.
Rowling answers quite a few more questions about her reading habits, including the most recent book she's enjoyed reading, so you can read and enjoy the rest of the article here.