Helena Bonham Carter's "Dream came true" in Playing Bellatrix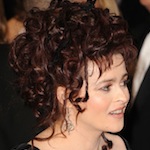 Oct 14, 2012
In a recent, brief interview, Helena Bonham Carter (Bellatrix Lestrange) commented on her role in Harry Potter. The actress told reporters of her dream to play a witch, and of the advice she liked to give younger actors on set (Daniel Radcliffe and Emma Watson). TV3 reports:
She said: "That was my dream come true, playing a witch. My daughter asks me, 'Why do you always play baddies mama?"'
Playing the role made Helena known to many young girls and she thinks she sets a good example – because she enjoys her food.
She said: "Am I a good example? Well, at least I'm not too thin. I eat."
The actress is also a source of advice for her young 'Harry Potter' co-stars, recently advising Daniel Radcliffe during a discussion for Interview magazine, though he isn't the only star to come to her for help.
She said: "I've had lots of conversations with Emma Watson too. She is very, very bright."