Matthew Lewis attends "Wasteland" Premiere, Bonnie Wright attends Oxfam Celebration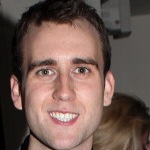 Oct 15, 2012
Matthew Lewis (Neville Longbottom) was in attendance from the premiere of his post-Potter film, Wasteland. (Pictures can be seen below) The film premiered at the BFI London Film Festival on October 13. Wasteland was also previously shown at the Toronto Film Festival earlier this year. Examiner reports:
"Wasteland" is a bold take on a much-loved genre. A heist film, an underdog story and a thriller delivered with unexpected originality.
There is not a published date for a wide release into the U.S. According to imdb.com it is slated for a wide release in 2012. 56th BFI London Film Festival runs from October 10 through October 21.
Bonnie Wright (Ginny Weasley) also attended an event this weekend. Ms. Wright attended Oxfam charity organization's 70th anniversary celebration. Pictures can be found here, thanks to the folks at SnitchSeeker.
Thanks to SS for the tip!