Video: J. K. Rowling on CBS This Morning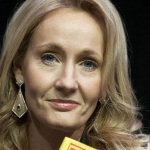 Oct 15, 2012
As part of the promotion for her recently released novel, The Casual Vacancy, J. K. Rowling appeared on CBS This Morning today. CBS describes the interview as follows:

"The Casual Vacancy" touches on themes of class and poverty and Rowling says she was drawn to the subjects after "having been very poor," as a single mother on welfare.
She admits that while she was aware of the pressure coming off of the wild success of the "Harry Potter" series — "that people were expecting and waiting" for her next big book — she relished "having a private world in my head again that no one knew about," while writing "The Casual Vacancy."
And although she told told Gayle King and Charlie Rose that another "Harry Potter" book is very unlikely, adding that his "story is pretty much done," she still cherishes fans of the series, including the group that awaited her when she arrived for the "CBS This Morning" interview. Rowling got emotional when she heard of the fans who waited outside all night to meet her, and said that it's still "an incredible thing to hear." Later, she added that "my heart is too full" to adequately respond to fans' connections to her work.
You can watch the interview here or below.