Toby Jones on his Acting Career and Harry Potter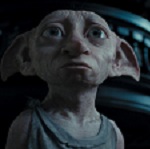 Oct 21, 2012
Toby Jones (the voice of Dobby) recently sat down for an extensive interview about his acting career. The interview mainly touched on his new role as Alfred Hitchcock in HBO's The Girl, but he did mention the fun he had, and what an honor it was to be a part of Harry Potter and The Hunger Games. Collider reports:
How fun is it to be a part of The Hunger Games franchise and be exposed to a whole new type of audience?
JONES: It feels great! My kids are big fans of The Hunger Games books, and they loved the first movie. It's great that I'm in a job where they sometimes get an insight into that world. Not that they come to the set, and not that they're interesting, at all, in me telling them stories about the set, but it's fun that we're both interesting in the same book, for different reasons.
Did you have the same type of experience with Harry Potter?
JONES: Harry Potter was a total surprise. I was naive and didn't know. It was the second film and I really didn't know anything about it, other than the first film was very successful. The phenomenon was very early on. Even today, I'm astonished at the amount of interest and enthusiasm that there is for those films. Not because they're not good, but it's very personal to people. It's linked to people's childhood. People have grown up with it. I feel honored to be a part of that massive group of characters

The rest of this large interview can be read here.