Details of Wizarding World Extension revealed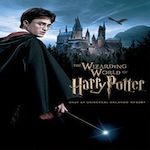 Oct 30, 2012
Hypable has posted new details of Orlando's expansion of the Wizarding World of Harry Potter. As reported previously, the second island of the Wizarding World will contain Diagon Alley, with a Gringot's ride as its major attraction. According to an insider on Orlando United's forum, screen name "WhyLightBulb", the Hogwarts Express will be more than just transportation between the two islands–it will contain new sensory details and technology. Details were also provided about the Gringot's wait line, and its interactive component. No official information or details have been released, although major construction is now underway at Universal. The park is expected to open in either 2014 or 2015. Hypable reports:

"The train stations include highly detailed scenery and effects' he/she writes. "The trains themselves will be very realistic including steam wafting from each car, scenic treatment and sounds. Each interior cabin includes period props and treatments."
"The window in each cabin will utlize an advanced optics display making it appear as though you are looking outside a window. As the train travels to the station, riders will be treated to different storylines depending on which station they are going to. The cabins are also equipped with a full effects package including heat blast, leg ticklers, lighting etc. One storyline includes a Dementor's attack where it will get dark, the air will go cold and lights will flicker among other things."
As for the rumored Gringotts thrill ride which will be the center point of the new London/Diagon Alley land, "the queue includes a really cool elevator ride that will simulate moving vertically and horizontally. You'll feel the air coming from the right side as you move to the right and you'll feel the air from below as you travel down. Each of the two elevator simulators include a projection dome above to enhance the visuals."
WhyLightBulb believes that these two attractions will include technology that has never before been seen or used and will top the current Harry Potter and the Forbidden Journey attraction.

Thank you Hypable!