JK Rowling attends the Lennoxlove Book Festival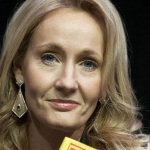 Nov 04, 2012
J.K. Rowling made an appearance at Lennoxlove Book Festival, her only Scottish event. At the festival, Ms. Rowling answered questions on stage from Muriel Gray as well as the audience. She talked about the important role of teenagers in the novel, and how she felt about the teenagers' characters. The Scotsman reports:
She told a packed-out session that when the idea for the book came to her she had felt a sense of excitement ' "but perhaps you'd have to be inside my head to know why".
"The core of the idea was ˜local council election: teenagers sabotage it'. I told a couple of people, but if I had gone by the looks on their faces, the book would never have been written.
"It is the mark of either how much my husband loves me or how right I was to marry that man, but he was the only person who, when I told him my idea, said: ˜Yes, that sounds good'."
One of the first questioners told her that she had been reading The Casual Vacancy at the doctor's when its use of the ¨C-word made her give an involuntary shudder.
Rowling, who admitted that moving away from fantasy had felt liberating, defended the word's use in the context of¨realistically explaining the kind of unpleasant teenagers she was writing about.
The novel's core themes about the dangers faced by teenagers were, she said, particularly close to her.
As a 15-year-old, she had been bullied by a boy who sub­sequently became a friend. That made it easy, she revealed, for her to write about Sukhvinder, a Sikh girl who is bullied by a classmate so badly that she¨begins to self-harm.
As a teacher, she had been shocked to come across girl pupils who self-harmed. "It's a frightening phenomenon, and it seems to be quite rife' she said.
Ironically, she added, although it felt painful to write about Sukhvinder, writing about Fats, the would-be cool teenager who is her tormentor, was a joy. "Fats Wall and Albus Dumbledore are two of my favourite characters to write about."
Some commentators ' especially in America ' have criticised the bleakness of Rowling's portrait of small-town English life.
"But it's not like Hogwart's' she insisted. "It's not a great battle between good and evil. There's no easy answers, no ¨solutions, just so many shades¨of grey."
To one questioner who asked about how to write fantasy, she explained that the key lies in preparing the plot's structure as thoroughly as possible.
"There are so many rules. One of mine is ˜Never have sex near unicorns'. There's just something tacky about it.
And that's why although Harry had a bit of a snog, it didn't go further than that!"

Rowling said: "I mean this from my heart and soul, but I would rather spend the rest of my color="#446688″ style="POSITION: static; FONT-FAMILY: Arial, Helvetica, sans-serif; COLOR: #446688 !important; FONT-WEIGHT: 400″>career writing books I love but others don't love so much than trying to repeat something I've already done."
The rest of the article can be read here.
Photos of the event can be seen here, thanks to Hypable.