Sky Movies Contest for Leavesden Studio Tour tickets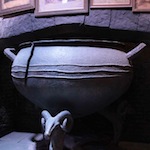 Nov 06, 2012
Sky Movies has announced a contest, open to UK fans 18 years or older, to win tickets to Leavesden's Studio Tour for this coming February. The tours will be led by cast or crew from the Potter films for five days. Those who are eligible can register here. SnitchSeeker reports:
The winners (147 winners will be chosen) receive: Four tickets to attend a private tour at Warner Bros. Studio Tour London ' The Making of Harry Potter, Leavesden on either the 18, 19, 20, 21 or 22 February (date chosen by the winner at the point of entering the ballot) led by cast/crew from the movies and followed by a Q&A session.

Winners will need to arrive by 7pm and the tour will last approximately three hours. The prize does not include main meals, trips, transfers, taxes, service charges or any other service or item not specifically described above.

Cast/crew are subject to availability and change up until the day of each tour and talent will not include Daniel Radcliffe, Rupert Grint or Emma Watson. Full list of terms and conditions can be found color="#102973″>here.