Cyber Monday Special: Sale on "Finding Hogwarts" DVD/Blu-ray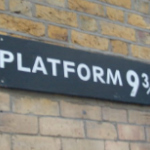 Nov 26, 2012
A quick note today for those looking for extra Cyber Monday sales today: Fan documentary "Finding Hogwarts" is offering their DVD and Blu-rays for 30% off this Cyber Monday at FindingHogwarts.com. The film ships worldwide and is encoded for all regions.
"Finding Hogwarts" is a documentary to explore what makes Harry Potter and his fandom so special through the stories of seven of his biggest fans, and the journey they took together to find Hogwarts – the heart of Harry's magical world. It was made by Harry Potter fans for their fellow fans, and has no affiliation with any official Harry Potter entities, including Warner Bros and JK Rowling.
For those of you unfamiliar with the film, we've embedded the trailer below.
Happy shopping!