Daniel Radcliffe talks Fame and (Not) Fortune, and Life after Potter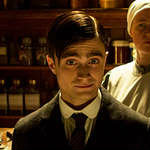 Nov 28, 2012
In a new (extensive) interview with The Telegraph, Daniel Radcliffe had a long chat about being a grown-up child super-star. There are many draw backs and perks of course, but Radcliffe talks about keeping life relatively normal as he moves on from Harry Potter. Radcliffe also answered questions about his life on the set of Harry Potter, as well as his work on his post-Potter projects (The Woman in Black, Horns, A Young Doctors Notebook, and Kill Your Darlings). The Calgary Herald reports:
LONDON " Daniel Radcliffe bounds in to the hotel room like an eager puppy, all hand shakes and smiles for the assembled publicists, PAs and makeup artists. He is talking excitedly about the "gorgeous blond" he just met in the corridor. She had asked if he could direct her to her room " not so subtly revealing her room number in the process " and he hadn't been able to assist her.
"But it wouldn't have worked anyway' he says, "because she was about 6-foot 2." He's joking, he has a girlfriend, but the point he makes about his height is an intriguing one. He is 5-foot 5.
This is the first thing you notice about him, but luckily it is not the first thing the camera notices.

That he qualifies his comment about the photographers by saying that they won't necessarily be waiting for him is telling. His modesty, self-deprecation and good manners are instantly apparent, and a great credit to his parents who managed to forge a well-rounded and functional personality out of potentially dysfunctional circumstances.
On the morning I meet him, the papers are all carrying stories about the film he starred in earlier this year: The Woman in Black, which has become the highest-grossing British horror movie in 20 years, taking more than $127 million around the world. The stories, which he hasn't had a chance to see, are about how The Woman in Black has become the most complained about film of the year, because some parents took their young children to it.
That film was something of a rite of passage for Radcliffe, an emphatic signal that he had moved on from Harry Potter.
"There was a part of me in some scenes that was slightly scared of my own face, because I know that my face is." He trails off. "I'm scared of any sort of expression looking like a Harry expression, and so I think that the journey for me in the last year is kind of about acceptance, of going, ˜This is my face and it was also the face that played Harry.' I have to stop fighting that aspect, and not worry about being expressive at times. As far as I can tell, most actors's main motivation is self-doubt and neuroses."
I ask if he felt a great weight on his shoulders as an 11-year-old when he was chosen as the star of what was expected to be a blockbuster franchise? Was it stressful?
"Not at that age. I didn't start to feel that pressure until much later. I think probably, that's one of the best things about (director) Chris Columbus, he made the process so enjoyable we never thought of it as anything but fun, and it really wasn't until the third film that I started going, ˜OK, now I want to really dedicate myself to this and start learning about acting and getting better.'"
That he was working alongside some of the greats of British film and theatre " Alan Rickman, Michael Gambon, Gary Oldman " meant that he was learning from the best. Indeed there was little point in him going to Rada after he left school " not that he went to school, having had tutors on the set instead. But what about university?
id="3″>
"I got my ASs but dropped out before taking my As because I figured university is something you do to find out what you want to do, and I knew what I wanted to do, and I was already doing it."
His co-star Emma Watson (Hermione) was able to combine the two, though.
Did he not fancy doing that? "Well fair play to her, but I don't think that I could have done that. And bear in mind, I did well in my GCSEs and my AS-levels, I got good grades and I was happy with them, but Emma's grades made mine look pretty f"" shabby, you know. Emma is seriously academic."
A Young Doctor's Notebook is a black comedy set during the Russian Revolution adapted from several short stories by his favourite Russian writer, Mikhail Bulgakov. His co-star is Mad Men's Jon Hamm, who will play the same character, a doctor, in an older guise.
"I think they were going to release it in the spring of next year' says Radcliffe, who adds that he's "immensely flattered" that he might one day turn into Hamm. "And then they were, like, ˜Let's release it at Christmas, because there's lots of snow in it.' It's not remotely festive, but it's snowing all the time."
During filming he says he learned quite a lot about how to amputate limbs.
"And I do think I could probably perform a tracheotomy now.'
In terms of his role choices, you have to admire the determination with which he has avoided anything that can be compared to Harry Potter, especially when you consider how much pressure he must have been under to consolidate on his success in that role. Before the Ginsberg and the Bulgakov he had an even more unexpected stage debut, at the age of 18 in 2007. It was in Equus, Peter Shaffer's controversial play about sexual deviation.
His life so far is hard to empathize with, I say " he's the richest person under 30 in Britain, for example " but I wonder whether his teens were all that different from everyone else's. When I was that age, as I recall, I was rather self-conscious. Was self-consciousness ever an option for him, given that he was by then used to having his face projected on cinema screens and billboards across the land?
"You can still be self-conscious in my position. And shy. Shyness displays itself differently in me. I think it's more an awkwardness. Like when I go to those events, like the Baftas, or like I was invited to this thing called the Met Ball, and I ended up having a good night because I took a friend, but normally I feel very awkward at events like that."
Because?
"Because I don't feel that I'm good at small talk, and I'm not. You know, meeting people in that fleeting way, I never know how to give an accurate impression of myself, so I just become nervous, and stumbley."
When people recognize him in the street, do they say, "Hey, there's Harry Potter!" or do they say "There's Daniel Radcliffe"?
"I'd be lying if I said I didn't get Harry Potter at all. Of course I do. But you know what? I'd say the split is now rather encouragingly in favour of Daniel Radcliffe, which is rather lovely. I walked past two girls on a bench the other day, and I heard them both go, ˜Oh my God, it's Daniel Radcliffe,' and every time that happens I think: ˜Yesss!' Not because they recognize me, because they use my name."
One's teenage years are awkward enough without having to live them in a spotlight, I say. Did he have people around him helping him deal with the pressures of fame " therapists, I suppose I mean?
"You know, the people I talk to are my mum and dad. They are amazing people, and were always great at making me aware of which parts of it were real and which weren't, and making me aware of which parts were important and which were not."
So even though he was growing up on film sets, where the whole world was apparently revolving around him, his parents managed to keep his ego in check?
"I don't think that's in me, to be honest. I've not got . . . I've always had, like, from the age of about 11, I've had such an intolerance for bad behaviour of actors that I don't think I was ever going to be that person."
What about the financial side of things?
"I have an amazing lawyer, and I have my mum, and I have my accountant, who was my mum's accountant when she was young. He's called Keith and he's also brilliant."
I imagine Keith knows how much young Daniel is worth, but does Daniel know?
"I do not, no. I hear things said, but I don't know if any of them are true. And I never want to seem ungrateful for it all, but the money is not a motivating factor in my life.
"Also' he adds with a laugh, "I would be the last person who should be left in charge of it, frankly. Because I am so terrible at maths. Not that I'd blow it or anything, but I just wouldn't do anything with it."
The rest of the interview can be read here. (Caution to parents: the article contains comments on drugs, alcohol and sexuality).