Harry Potter Shop at Platform 9 3/4 Press Preview, Video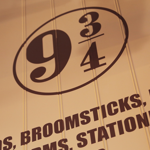 Dec 15, 2012
As we told you earlier in the week, The Harry Potter Shop at Platform 9 3/4 opened to the public today after Warwick Davis (Professor Flitwick, Griphook) cut the ribbon and opened the shop to the press for a preview on Friday. Leaky was one of the lucky guests invited to have a look around and you can see some of the things inside the shop, its layout and a number of 9 3/4 exclusives in the video below, which also includes a clip of Warwick Davis and the ribbon cutting ceremony.
The shop is small but packed with merchandise, much of it familiar to fans, with items from the Noble Collection such as the locket and Luna's beaded radish earrings, alongside the Harry Potter books and Hogwarts jumpers. Walking in after the very brief ribbon cutting ceremony, it was the 9 3/4 hoodies that immediately caught my eye. Priced at a fairly reasonable £29.99, the hoodies bear a stamp-like print of the platform number and can be seen in the video above.
When asked about his favourite items in the shop, Warwick Davis named the wands but also stressed that he'd like a functioning Deluminator to save him the trouble of turning the lights off at night. The actor further found himself in knots trying to pick between Flitwick and Griphook when he was asked which character he preferred playing and settled on "both of them". You can watch more from the Q&A with Davis in a video to be uploaded soon on our YouTube channel.
The size of the shop makes everything seem smaller, creakier and all-in-all like it quietly crept out of the brickwork without anyone noticing, which, to be fair, it almost did. Those employed to work on and promote the project did a fantastic job about keeping quiet, preventing any half-baked spoiler photographs purely because no one knew it was happening (TLC only found out a couple of days before the launch event).
The date of the opening is, conveniently, a couple of weeks before Christmas Day, and with early opening hours, The Harry Potter Shop is sure to catch commuters as well as the fans who stopped by to take photographs with the giveaway trolley and platform sign just next door. Have any Leaky readers visited the shop yet? If so, let us know what you thought and stay close for more video and some pictures from the event.