Happy Birthday, Melissa!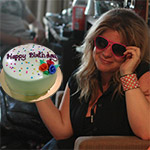 Dec 27, 2012
Posted by John Admin
December 27th is here! For those of you following along at home over the years you might know the 27th to be yet another December holiday at Leaky… Melissa Anelli's Birthday! I hope everyone enjoys the day, but most of all I hope Melissa has a great birthday, filled with friends and family and many inches of snow! Everybody go ahead and join in and fill the comments with love and birthday wishes!