Daily Mail and Mirror Get Sneak Peak at Warner Bros. Studio Tour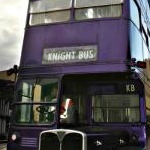 Mar 17, 2012
Both the Daily Mail and the Mirror have gotten a sneak peak at the Warner Bros. Studio Tour and along with including some new images of the tour, their articles describe what fans can expect. Both articles describe the experience of getting to ride on a broomstick in front of a green screen. The articles give insight into what the souvenirs will cost (£2.95 for butterbeer, £24.95 for a house scarf, £24.95 for a broomstick) and the Mirror gives us a look at what the souvenir shop at the end of the tour will look like.
As for the Tour itself, the Mirror gives a play by play on how the Tour is laid out so if you're keen on remaining unspoiled do not read.
You can read the Daily Mail article here and the Mirror article here. The Warner Bros. Studio Tour will open on March 31st.