Evanna Lynch Speaks About the Warner Bros. Studio Tour, and More Pictures from the WB Studio Tour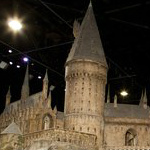 Apr 25, 2012
Evanna Lynch (Luna Lovegood) has recently spoken to ET Online about the experience of visiting the Warner Bros. Studio Tour:

ETOnline: Was it strange to walk back onto the Harry Potter sets for the first time in a few years?
Evanna Lynch: Yes — and that's what's different about this. There's already a theme park in Florida, which is also awesome, but everything there is a replica. The studio tour has the actual sets. This is where all eight films were made. It's nice to walk on there and feel the atmosphere we had on set and appreciate all the details.
…
ETOnline: Are you far enough away from the experience to realize what a massive contribution to pop culture those films made?
Lynch: Not really. I never think about that because even when we were on the sets, it never felt like work. Yes, it was a big budget movie and we'll never get treated this well in your life [laughs] but it was such a family feeling. When I see the fan reaction, that's when it hits me. I'll always be proud to have been in Harry Potter.
You can read more here.
Additionally, Reelz has compiled an in-depth picture tour of the Studio Tour, so if you're unable to get to London in the foreseeable future here's a virtual alternative.
Many thanks to Max for the tip!