"Into the White" Gets DVD Release Date, First "Perks of Being a Wallflower" Trailer to Air at the MTV Movie Awards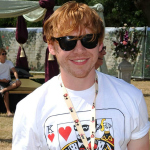 May 16, 2012
Rupert Grint's film "Into the White," will be released on DVD and blu-ray on August 28th. Unfortunately, this release date only applies to Norway. Keep close to Leaky for the international DVD release date.
In other actor news, Emma Watson will be appearing at the MTV Movie Awards on June 3rd to show the trailer for her upcoming film "The Perks of Being a Wallflower." She released this news via Twitter earlier today:
#PerksOfBeingAWallflower Trailer is going to show at the @MTVMovieAwards pre-show! @LoganLerman and Ezra and I will be there to present. : )
Sorry I couldn't mention anything sooner! Thank you to everyone who has voted for HP ! You guys are awesome xx
"Deathly Hallows: Part 2" is up for six MTV Movie Awards: Movie of the Year, Best Kiss (Rupert Grint and Emma Watson), Best Female Performance (Emma Watson), Best Male Performance (Daniel Radcliffe), Best Fight, and Best Cast. You can vote here.
Many thanks to Dan and Rupert-Grint.us for the tip!