Online Harry Potter Course for High School Students to be Hosted by Mythgard Academy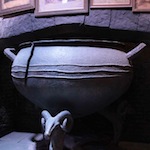 Jun 06, 2012
For high school sophomores, juniors, and seniors, enrollment is now open for Mythgard Academy's online course: Hogwarts 101: Exploring Harry Potter, Years 1-3. This intensive, three-week course, which is run by Dr. Amy H. Sturgis, will have interactive online classroom discussions, and focuses on a close reading of the first three Harry Potter books. A description of the course is as follows:
color="#222222″>
color="#222222″>Why is the Harry Potter series a record-setting success story across the world? What great traditions and works inspired the saga? What lasting lessons and big ideas can we draw from it? Join award-winning scholar Dr. Amy H. Sturgis as she considers the first three Harry Potter novels ' Harry Potter and the Philosopher's (or Sorcerer's) Stone, Harry Potter and the Chamber of Secrets, and Harry Potter and the Prisoner of Azkaban 'through the lenses of literature, history, philosophy, and popular culture studies. Even if you're a dedicated fan, there's always more to discover!
color="#222222″>
color="#222222″>No wand? No owl? No problem! Muggles and squibs are welcome as Mythgard Academy investigates the magical worlds and deeper meanings of the Harry Potter saga.
style=" "> color="#222222″>
color="#222222″>You can read more about Mythgard Academy here.style=" "> color="#222222″>
style=" "> color="#222222″>The course will run from July 2nd to July 18th, and enrollment is closed on July 1st. There is also a Lord of the Rings course entitled The Lord of the Rings I: The Road Goes Ever On.