Video: J. K. Rowling and Steve Kloves Talk Writing the Trio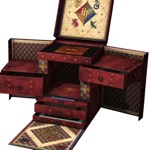 Jul 11, 2012
The Harry Potter Wizard's Collection website has released a short clip from the "Creating the World of Harry Potter" documentary, which will be included as part of the special features of this limited edition DVD collection. Watch here or below as J. K. Rowling and screenwriter Steve Kloves discuss the effort that went into writing Harry, Ron, and Hermione:
The description of the documentary this is taken from is as follows:

Over the course of ten years, screenwriter Steve Kloves worked tirelessly with author J.K. Rowling to develop her magical books into films. From the beginning, Kloves had to decide what to keep, what to change and what to cut while staying true to Rowling's vision, initially without even knowing how the series ended! Learn the story behind the stories as they sit down together for an intimate, free-flowing conversation.
The Harry Potter Wizard's Collection will be released on September 7th.