Tom Felton to Appear at New York Comic-Con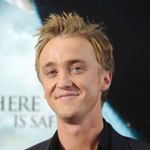 Aug 08, 2012
Tom Felton is set to be a guest at this year's New York Comic-Con, which runs from October 11th to October 14th:

You love to hate him and you hate to love him. The actor responsible for the portrayal of the intolerant, bigoted Slytherin, Draco Malfoy, will be stopping by NYCC! You heard me, Tom Felton at NYCC! Make sure you give this Brit a proper comic welcome and check out his panel and autograph signing. Watch out for his wand though, he's been known to cast a Cruciatus Curse in the past and we can't hold him accountable for his actions this fall.
You can purchase tickets to the New York Comic-Con and see the list of other guests here.