Whimsic Alley's First Annual Wizard Cruise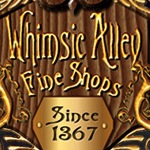 Feb 05, 2013
Whimsic Alley, an all-Harry Potter merchandise store in California, is establishing a new tradition for Harry Potter super fans. In partnership with Princess Cruises, Whimsic Alley is hosting a four-night water adventure up the California Cost, departing from Los Angeles. Whimsic Alley intends for these "Wizard Cruises" to become an annual fan event. The first cruise is set to sail November 27, later this year. Herald Online reports:


Whimsic Alley's Los Angeles facility has been a premier destination for Harry Potter fans worldwide since it first opened eight years ago. Locals and tourists have likened its avenue of intricately designed shops"featuring wands, quills, witches' hats, curios, wizard jewelry and apparel"to Harry Potter's Diagon Alley. The Great Hall at Whimsic Alley has been the site of hundreds of parties, teas, balls, banquets and luncheons.

The idea of a Wizard Cruise has been a long-time dream of Whimsic Alley's creator, Stan Goldin. Each year the "Alley" has conducted summer day camps for kids and a 4-day intensive camp for "so-called" grown-ups. "There are a lot of fan-cons and symposiums around the world each year for Harry Potter enthusiasts," said Goldin, referring to the types of events that feature discussion panels, art exhibits, and meetings. Such events are extremely popular among the Potter fandom. "Those fan-cons are terrific, but our camps are very different. We fully immerse our campers in the wizard-world experience. For the entire time they're with us, they become students at a wizarding academy, subject to the challenges and ordeals inherent in that experience."

Whimsic Alley plans that same type of full-immersion experience for participants of the Wizard Cruise. "Guests will be entertained practically around the clock," said Event Coordinator Belinda Ervin. "They'll be overwhelmed. They literally won't know which way to turn." Asked about specific activities they are planning, Ervin was deliberately secretive. "We've found that part of what makes the experience fun is the element of surprise, so we don't like to give away too much information ahead of time."
The price of the cruise starts at $650 per person and includes food, lodging, entertainment and activities. For details about what promises to be a truly "magical" expedition, call Whimsic Alley at 310-453-2370, extension 407, or visit www.WhimsicAlley.com. Answers to frequently asked questions can be found at http://www.whimsicalley.com/CruiseQuestions.htm.
style="border-top-width: 0px; border-right-width: 0px; border-bottom-width: 0px; border-left-width: 0px; border-style: initial; border-color: initial; outline-width: 0px; outline-style: initial; outline-color: initial; font-family: inherit; vertical-align: baseline; width: 1px; height: 1px; color: #000000; font: normal normal normal 10pt/normal sans-serif; text-align: left; text-transform: none; overflow-x: hidden; overflow-y: hidden; ">
Read more here: http://www.heraldonline.com/2013/02/04/4592066/harry-potter-fans-take-to-the.html#storylink=cpystyle="border-top-width: 0px; border-right-width: 0px; border-bottom-width: 0px; border-left-width: 0px; border-style: initial; border-color: initial; outline-width: 0px; outline-style: initial; outline-color: initial; font-family: inherit; vertical-align: baseline; width: 1px; height: 1px; color: #000000; font: normal normal normal 10pt/normal sans-serif; text-align: left; text-transform: none; overflow-x: hidden; overflow-y: hidden; ">
Read more here: http://www.heraldonline.com/2013/02/04/4592066/harry-potter-fans-take-to-the.html#storylink=cpystyle="border-top-width: 0px; border-right-width: 0px; border-bottom-width: 0px; border-left-width: 0px; border-style: initial; border-color: initial; outline-width: 0px; outline-style: initial; outline-color: initial; font-family: inherit; vertical-align: baseline; width: 1px; height: 1px; color: #000000; font: normal normal normal 10pt/normal sans-serif; text-align: left; text-transform: none; overflow-x: hidden; overflow-y: hidden; ">
Read more here: http://www.heraldonline.com/2013/02/04/4592066/harry-potter-fans-take-to-the.html#storylink=cpy