Dan Radcliffe to Appear at the Academy Awards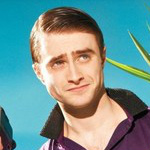 Feb 08, 2013
Dan Radcliffe will be starring in a special segment during the 85th Academy Awards, which will air on February 24th:

"We were bewildered," says Zadan. "How can you have the biggest franchise in motion-picture history, Harry Potter, and yet no one has ever been on the Oscars? (It) was strange to us."
Zadan and Meron have a long history with productions that feature music and a recent association with Radcliffe: They are executive producers of the NBC series Smash and produced a revival of the Broadway musical How to Succeed in Business Without Really Trying, which starred Radcliffe in 2011-12. Zadan says "music in movies" will be a theme of the Oscars, but he won't reveal what roles the stars will play.
"We want people to guess what are they going to be doing. We're just not saying," he says. "But it will be a substantial bite. It's a big deal."
You can read the rest of the article here.