Dan Radcliffe in OUT Magazine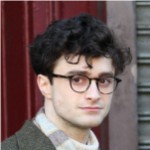 Feb 12, 2013
A new article about Dan Radcliffe appears in the March issue of OUT magazine. In it, Radcliffe discusses his upcoming film "Kill Your Darlings," as well as touching on if he would rewatch the Harry Potter films:

When he was plucked from obscurity to play the most famous boy in the world, Radcliffe had no formal training at all, and was given none on set. In essence, millions of us watched him through 10 years of self-taught acting classes. OK, so he had extraordinary mentors like Gary Oldman, Fiennes, and Dame Maggie Smith to steer him, but he also had to learn to keep pace with them, especially when the franchise hit its stride. Radcliffe says he can barely bring himself to watch his early performances. "I certainly wouldn't watch number three, I wouldn't watch the first two, I wouldn't watch four' he says, ticking off each of the installments. "I might watch five." He pauses. "I definitely wouldn't watch six."
You can read the rest of the article here. Please be forewarned that there is some mature content.