J. K. Rowling and Lumos Petition to End the Institutionalization of Children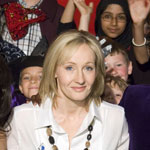 Feb 12, 2013
J. K. Rowling and her charity Lumos are currently asking for your signature on a petition to end the institutionalization of children across the world:

We want to make sure every child in Europe can grow up in a caring family environment. Currently, one million children in Europe have to live in institutions. This is why we have launched an online petition which calls on the European Parliament, Council and Commission to ensure that European Union structural funds are used for the transition from institutional to family and community-based services.
You can read more about the initiative here and sign the petition here.