James and Oliver Phelps joke about signing autographs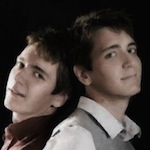 Feb 20, 2013
James and Oliver Phelps enjoyed themselves as they signed autographs at the Harry Potter Exhibition in New York's Time Square. The strangest piece of material they were asked to autograph: a toilet seat. Entertainment Weekly caught up with the twins on their post-Potter lives and their favorite memories, reporting:
[I]n New York City for a few days to sign autographs at Harry Potter: The Exhibition (open through April 7 at Discovery Times Square), they shared a fan first: "One girl came in with a toilet seat' James says, in honor of their characters' penchant for blowing up toilets in the books. "I'd love to have seen her just walking through Times Square carrying a toilet seat." Jokes Oliver.
These days, James is hoping to do more theater after making his stage debut earlier this month in the comedy The Boy Who Was Woody Allen (and planning to smuggle 3 Musketeers bars and boxes of Lucky Charms back to the UK), while Oliver is enjoying doing some travel writing for his website JopWorld.com (and prefers to collect sports jerseys on his trips " thank you, Rangers).
Their most prized possessions from the films? "Theoretically, we didn't take anything' Oliver says. Noted. "But I think from the joke shop, I took one or two of the Skiving Snackbox sweets and also one of the retail bags. I've actually got that framed, and it's in my bedroom."Wait, he can do even better than that: He also has a plaster cast of his head, made when George lost his ear in the seventh film: "I said to one of the sculpting girls, ˜Can I have one?' ˜Yeah, sure.' I came in one day, and there was this [bust], to size. I normally just keep it in the dining room with a hat on. Christmas time he'll have a Santa hat on. He's on the windowsill at the moment. It's always quite funny if you have someone come to the house, doing some work or a meter reading, and he walks by and it scares him to death. It does look very life-like." As for James, he keeps a photo of himself standing in front of thousands and thousands of fans at the last movie's premiere. "It's just one of those cool, like, that happened things. I've got it in a small frame in my dining room. So he's got a head, and I've got a subtle photograph in the corner. You see where we're going here' he says, laughing.
The question they're surprised they're still getting asked? "˜Oh, you're not really ginger?' Some people get quite offended that we're not real gingers. But then I'm like, ˜The magic wasn't real either. We didn't really fly,'" James says, laughing again. "One person was like, ˜I know how you do all the flying on the brooms and everything.' And I was like, ˜Oh really, do you? What's that?' And he did actually get it. But I said, ˜No, actually, we skydived. They recorded us skydiving like that.' And I think he might have believed it. I don't think sarcasm travels over here very well."
Their autograph record? "The last major Potter premiere was the London one, and there was like 20,000 people there. It took four hours to get into the theater' James says. Says Oliver: "We actually missed the very beginning of the film. We always like to meet people who've taken time to wait outside. It's just nice. My friends have always said, ˜It's when they're not asking that you've got to be worried.'" Jokes James, "As long as it's not a check, I'm happy to sign it."
The rest of the article can be read here.