J. K. Rowling Says No Harry Potter Prequel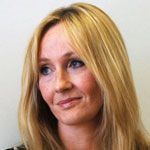 Mar 09, 2013
J. K. Rowling appeared at the Bath Literature Festival yesterday and announced that she has no plans to write a Harry Potter prequel. Specifically, she had no plans to write a story concerning the Marauders:
Rowling, speaking at the Independent Bath Literature Festival last night, said she was not planning to return to the story of the "Marauders" ' who attended her fictional Hogwarts School of Witchcraft before Harry Potter ' because she didn't think much of prequels. "I'm never going to say never but I have no current plans. I think prequels are not generally very successful," she said.
Via Hypable (which can be read in full here), Rowling also mentioned:
Grindelwald never loved Dumbledore and used him.
Her next book will be aimed at 8-year-olds, but she's still busy writing it.
You can read more about Rowling's appearance the Festival here.