New Details on the Wizarding World Expansion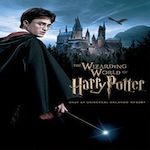 Apr 13, 2013
Mugglenet has received new information concerning the rumors of the Wizarding World of Harry Potter expansion:
We were told that the Hogwarts Express will indeed be the link between the two parks, and in fact, there will be THREE trains running on monorail type tracks. There will not be windows on the train, but in fact video screens, where the riders will watch one of six movies that were filmed by the cast (including Helena Bonham-Carter) months ago. The ride will effectively link The Wizarding World to the alternate park at Universal Studios, encouraging fans to inevitably buy tickets to both parks in order to enjoy the full Harry Potter experience.
Also, it was confirmed, exclusively to MuggleNet, that Gringotts will IN FACT be a high speed rollercoaster involving carts and will delve deep down into the bank (dragons, in fact, are bound to be encountered!)
Mugglenet has also confirmed that there will be an official announcement concerning the expansion in four to six weeks.
Many thanks to Mugglenet for finding out more about our favorite theme park!