Emma Watson receives Trailblazer Award at MTV Movie Awards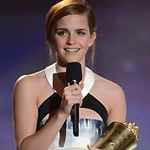 Apr 15, 2013
Emma Watson, who turns 23 today (Happy Birthday Emma!), received the Trailblazer award at the 2013 MTV Movie Awards last night. The Trailblazer "The award is given to
an actor who, despite their age, has managed to inspire others with a diverse
portfolio of work and a transcendent reputation in the public eye". Miss Watson's costar, Logan Lerman, and Eddie Redmaynepresented the award. Thanks to MTV, the clip of Miss Watson's acceptance speech can be seen below. MTV reports:


And while it may not have been obvious to fans watching her take the stage to give a heartfelt speech, backstage Watson revealed to MTV News that she was really feeling the pressure to come up with the right words for her big moment.
"It was so nice and it was just amazing," she said of the honor. "I never really won anything like this before, so I really felt like I had to really consider it and I felt, like, a lot of pressure.

"I was actually here last year when Emma Stone won [the Trailblazer Award], and she gave this awesome speech and I felt really inspired," the "Perks of Being a Wallflower" star continued. "And so it took a little while. But when you're up there, it's a completely different thing. It's really, really nerve-racking."

Having friends and co-stars Eddie Redmayne and Logan Lerman at the show to present the tribute probably helped Watson to calm her nerves. And, however long it took, the star eventually found just the right words.

"Becoming yourself is really hard and confusing, and it's a process," she said in her speech. "I was completely the eager beaver in school, I was the girl in the front of the class who was the first person to put her hand up, and it's often not cool to be the person that puts themself out there, and I've often gotten teased mercilessly, but I found that ultimately if you truly pour your heart into what you believe in " even if it makes you vulnerable " amazing things can and will happen."

The Movie Awards have wrapped but the party's hardly over for Watson. One Monday she'll have her Trailblazer win and her 23rd birthday to celebrate. "It's so exciting," she said. "I'm so old."
style="background-color:#000000;width:520px;">style="padding:4px;">
Get More:
2013 MTV Movie Awards, Latest Movie News