Animal Actors to be Featured at Warner Bros. Studio Tour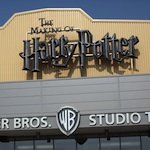 Apr 18, 2013
From May 25th to June 2nd the Warner Bros. Studio Tour will be featuring some of the famous animal actors from the Harry Potter films, including the cats that played Mrs. Norris and Crookshanks. Julie Tottman, the head animal trainer for the films, will be on hand to answer questions. Other activities will include:
Pose for a picture with iconic owls, including Hedwig and Pigwidgeon, in the backlot throughout the week.
Discover firsthand how scenes for Umbridge's moving kitten plates were filmed as the Studio Tour recreates a blue screen set complete with live kittens.
A Neapolitan Mastiff dog, trained like those who played Hagrid's loyal Fang, will be stationed outside the half-giant's hut.
The cats who played stealthy Mrs Norris and Hermione Granger's bandy-legged feline Crookshanks will prowl the Gryffindor common room.
Go behind-the-scenes and learn how rats and toads, such as those who played Neville Longbottom's toad Trevor and Ron Weasley's rat Scabbers, were trained as animal actors.
See a snowy owl outside the shop front set of Eeylops Owl Emporium in Diagon Alley.
You can find out more and purchase tickets here.