Hunger Games' Jackie Emerson Coming to LeakyCon!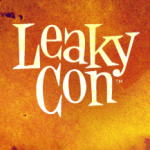 May 09, 2013
LeakyCon has announced that Hunger Games actress Jackie Emerson (Foxface) will be making an appearance! She will be talking on a variety of panels—topics including The Hunger Games and female body image. You can still register for LeakyCon Portland here. LeakyCon reports:


Jackie played Foxface in The Hunger Games film. Earlier this year, she appeared alongside a very fandom-inclusive cast including YouTuber Tessa Netting, StarKid's Joey Richter and Glee's Curt Mega in the Joe Moses One Man Showses at El Rey Theatre in LA. She will be appearing in The Curse of Downers Grove and Son of the South, both which will premiere next year.

Jackie is from Washington, D.C. and in addition to acting, Jackie is also a singer and posts her music videos to herYouTube channel. She recently started a project called Spread the Light, where she and Carmen Isabel Grendy visit charities, volunteer and make short videos about their experiences.

Jackie will lend her voice to a wide array of panels and discussions at LeakyCon Portland including everything from talks about The Hunger Games, to a discussion about female body image. We are beyond excited to welcome her to the Leaky family!