J.K. Rowling's Personal Annotated "Philosopher's Stone" to be Auctioned for Charity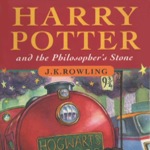 May 19, 2013
Posted by Catherine
A very rare copy of Harry Potter and the Philosopher's Stone is going to be put up for auction on Tuesday. The auction is to aid the writers' association, English PEN. The auction will sell numerous novels annotated by their authors, including an incredible first edition (yes, one of the original first-run 500 copies) of Philosopher's Stone annotated by J.K. Rowling. This special annotated copy of Philosopher's Stone includes numerous handwritten comments in the margins, 22 original hand-drawn sketches, as well as a 43-page "second thoughts" segment in which Rowling gave her personal account on writing the novel. The Daily Mail reports:

JK Rowling's personally annotated first edition of Harry
Potter and the Philosopher's Stone is due to be sold at the Sotheby's in aid of
the writers' association English PEN. On the title page she has added: 'changed
my life forever', and drew the Hogwarts crest where it went on to appear in
later editions. She also questions: 'Perhaps Hufflepuff house would have the
respect it deserves from fans if I'd stayed with my original idea of a bear to
represent it?'

On another page, Rowling has drawn a picture of a sleeping baby Harry left on
the Privet Drive doorstep of the Dursleys, his aunt and uncle, after his
parents were killed by Lord Voldemort


On the chapter entitled Quidditch, Rowling's notes explain the sport's origins:
'was invented in a small hotel in Manchester after a row with my then
boyfriend. I had been pondering the things that hold a society together, cause
it to congregate and signify its particular character and knew I needed a
sport. It infuriates men, in my experience (why is the Snitch so valuable
etc.), which is quite satisfying given my state of mind when I invented it'
It includes a 43-page 'second thoughts' segment from Rowling,
with notes such as, 'I wrote the book … in snatched hours, in clattering
cafes or in the dead of night.

'For me, the story of how I wrote 'Harry Potter and the
Philosopher's Stone' is written invisibly on every page, legible only to me
…'

Dr Philip W. Errington,
director of printed books and manuscripts at Sotheby's, said: 'This can
undoubtedly be regarded as the definitive copy of any Harry Potter book.

'Not only is it a fine copy of
a first edition of the first book, but the author has significantly
personalised it with numerous written comments and many impressive and
evocative illustrations.

'The personality of the author
leaps from these pages and we are treated to a remarkable insight into her
creative genius.'
The Daily Mail also has posted a few pictures of this annotated Harry Potter and the Philosopher's Stone, which can be seen here.