Rupert Grint and Alan Rickman's "CBGB" Premiere Date!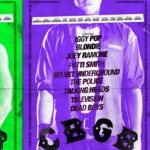 Jun 01, 2013
Rupert Grint and Alan Rickman's new film CBGB, has released a range of dates for its premiere this fall. Iconically, the movie will be released during this year's anual CBGB Music Festival. The festival runs from October 9-13 in New York City, New York. The film does not have a definite date, but it will premiere sometime between the 9th and the 13th. The Hollywood Reporter states:

XLrator Media has acquired U.S. rights to distribute

CBGB

, the film about the iconic New York City club that gave rise to the punk movement in America.
It will be released during the CBGB Musical Festival, which runs from Oct. 9-13 in the Big Apple.

"CBGB is one of the most iconic and authentic names in music history, and Randy's extraordinary film is a raucously entertaining celebration of the music and artists that have defined the culture for decades," said Barry Gordon, XLrator Media CEO, in a statement Thursday. "CBGB is the rare film that will resonate with teens, millennials and legacy fans alike. The whole family can jump in the mosh pit together for this one!"