Emma Watson and "The Bling Ring"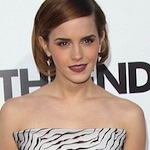 Jun 26, 2013
Emma Watson's new film, The Bling Ring, proved to be successful this past weekend. According to KPOP, the movie grossed $2 million, in 650 movie theaters, just this last weekend. Due to its success, hopefully The Bling Ring will be expanding its theater coverage. Emma Watson, who is featured on the cover of Teen Vogue's August issue, commented on The Bling Ring and her fame. CTV News reports:
Watson quickly realised her presence was a big deal to her fellow students and she was followed by paparazzi most days.
Speaking in the new issue of Teen Vogue, she said: "It sounds stupid, or completely unbelievable, but that was when I really realized that I was famous."
Watson, 23, believes she was unaware of her fame because she lived in a bubble when she was shooting the wizard franchise with Daniel Radcliffe and Rupert Grint.
Speaking about her 10-year stint in the films, she said: "I think, in a way, I was very protected during 'Harry Potter' because I was working all the time. I would get in the car, go to the studio, and go home."
"There are still days when I deal with (fame) horribly and there are days when I deal with it really well."
Photos from Emma's Vogue cover can be see below or at MTV.com.