New "Prisoner of Azkaban" Cover to be Unveiled at LeakyCon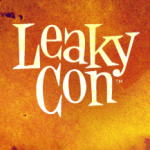 Jun 27, 2013
Scholastic has been releasing images of new covers for the U.S. editions of the Harry Potter series. New artwork for Harry Potter and the Sorcerer's Stone, as well as Harry Potter and the Chamber of Secrets, was revealed on Good Morning America and at Book Expo America. Scholastic has decided to release the cover of Harry Potter and the Prisoner of Azkaban at our very own LeakyCon! Broadway World Books reports:

Cheryl Klein, senior editor at Arthur A. Levine Books and a continuity editor on the Harry Potter series, will unveil the new cover during theLeakyCon opening ceremonies on June 27 at the Oregon Convention Center, making this a special moment for fans at LeakyCon who have grown up with the novels.
The artwork already released for the first two books may be seen below.