Dan Radcliffe to Return to "The Simpsons"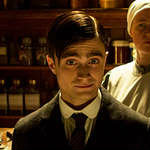 Jun 29, 2013
Dan Radcliffe will be voicing a new character on "The Simpsons" upcoming season. Previously, in 2010, he voiced a character for the Halloween episode, "Treehouse of Horror XXI":
In an episode airing this coming season, Bart will encounter Diggs (Radcliffe), a strange older boy with a passion for falconry, among other things. "Diggs is a combination of Holden Caulfield, Finny from A Separate Peace and the kids in Lord of the Flies " only a little more screwed up' executive producer Al Jean tells EW.
You can read the rest of the article here.