The Many Faces of Emma Watson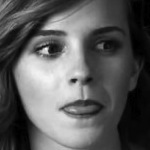 Jul 11, 2013
Emma Watson recently participated in a W magazine photo shoot that captured her many different facial expressions. The shoot and magazine spred talked of Emma's career journey, and her growth as an actress. Photos may be seen here and a few may be seen below. The Improper reports:

Emma Watson

is steadily increasing her range as an actress and moving away from her "

Harry Potter

" days. In a stunning series of images from a recent

W

magazine interview she provides a fascinating character study.
Watson, 23, is captured in black-and-white with a wide range of expressions, from serious to shocking, to silly, to whimsical.
She poses against a black background, wearing a dress with a plunging neckline that exposes her sexy shoulders. The images are video captures from Emma's recent W magazine shoot.
As the magazine notes in a June interview, the British star "has managed to escape both the bad behavior and the career paralysis that afflict so many child stars."
Watson has taken deliberate steps to expand her range. She started small with a secondary role in 2011²s "My Week with Marilyn' starringMichelle Williams, Kenneth Branagh and Eddie Redmayne.
She took on a broader role in "The Perks of Being a Wallflower' a teen coming-of-age film that included an ensemble cast and she let her freak flag fly in this year's Sofia Coppola film "The Bling Ring." In some ways it was her most difficult role, because the character is so different from herself.
"I've never wanted to grow up too fast: I wanted to wear a sports bra until I was 22! The allure of being sexy never really held any excitement for me. I've never been in a terrible rush to be seen as a woman' she told the magazine.