Happy Birthday, Robert Galbraith!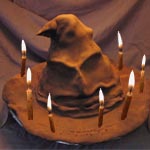 Jul 31, 2013
It's the day we wait for all year long! The birthday of our favorite author, Robert Galbraith!
We can all remember when we met Robert: while browsing the "little known" section of the independent bookstore last month. It was love as soon as we saw the jacket cover, amirite? An author that reminded us of the hazy days of Harry Potter speculation, but with a more adult, darker bent?
Since then ol' Mister Galbraith has become a good friend to the Leaky Cauldron. He has been on our podcast and let us interview him a few times, and supported us publicly. He has shared insight and wisdom about the dense plots of his mysteries, and given away a virtual ton of money to charity. We're so happy to be his fans!
No, but, really folks: Today is J.K. Rowling's birthday and it makes no difference to us whether she goes by Joanne, J.K., Robert, or Juanita McApplesnitch. We love her more and more each year. Join us in wishing her the happiest of days!
It is also Harry Potter's 33rd birthday! In canon terms, that means he's had all three kids (that we know of by the epilogue) and may be just about ready to start sending them off to Hogwarts. Happy birthday, Harry!