Actor Round Up!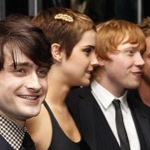 Sep 08, 2013
The cast of Harry Potter have been making a splash on the news front today. The trio is making much progress in their post-Potter endeavors. Daniel Radcliffe grew a pair of horns at the Toronto International Film Festival, premiering his new movie Horns. New stills of the movie were released, along with photos of Dan at the premiere. Those photos can be seen here and here (respectively), or below. Horns is set to be released in the United States next month. Once again, Emma Watson has attached herself to Your Voice in My Head. According to The Hollywood Reporter, Emma has signed Francesca Gregorini's adaption of an Emma Forest memoir. As you may remember, Emma was associated with this project before, when it was being directed by Harry Potter director, David Yates. Emma left the project not long after Yates gave up the film. The film has moved from Warner Brother's hands onto an independent track, and Emma is officially reattached. Filming for Your Voice in My Head will begin on November 4 in New York. To complete the trio news, Rupert Grint is rumored to be taking a part in Enemy of Man, a modern adaption of Shakespeare's MacBeth. The Hollywood Reporter stated that filming for this movie will begin in January 2014.
Last but certainly not least, Matthew Lewis showed himself in the press today. Though it is not movie news, Matthew Lewis is still doing admirable work for charity. Lewis will be participating in a run for the Leeds Rugby Foundation. As twitter follower know, Lewis loves his Leeds rugby and is using his passion for the sport for a higher cause. The Wharfedale Observer reports:
The actor, who found fame as Neville Longbottom, is supporting the Leeds Rugby Foundation by taking part in the Bupa Great North Run in Newcastle on September 15.
Matt is a vice-president of the foundation, which runs projects to encourage people to harnesses the power of sport to improve their lives.
Matt said: "I really appreciate everyone who is supporting us whilst we take on this challenge.
"I have been training hard as I know what fantastic work Leeds Rugby Foundation does in the community and I am keen to raise as much money as possible to help them continue their great projects.
"Any support that you can give will help us to reach our fundraising target and keep us motivated for every step of the 13 miles. A huge thank you to everyone who donates."