J. K. Rowling Speaks About Her Years as a Single Mother for Gingerbread Organization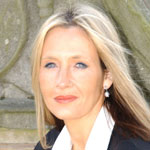 Sep 18, 2013
J. K. Rowling, writing as president of the Gingerbread organization for single parents, has written about her experiences and struggles as a single mother in support of single parents:

Nearly twenty years ago (it's a shock to me to write that, because it still seems quite a recent occurrence) I became a single parent. Like the vast majority of single parents, this had not been my plan. My much-wanted daughter had been conceived and born while I was married, but the failure of that relationship saw me living shortly afterwards on state benefits in the coldest winter Scotland had seen in quite a few years. I had been living in sunny Portugal prior to my return to the UK and the snow was merely the first shock to my system.
I had imagined that I would be back at work fast. Indeed, it was because I expected to be employed outside of the home again that I was working so hard to finish the children's novel I never told anyone I was writing (not wishing to be told that I was deluded). As it turned out, my belief I would shortly be back in paid work turned out to be a much bigger delusion than the hope that the novel might be published.
You can read more here, at Gingerbread's site.