J. K. Rowling Interviewed at Lumos Fundraising Event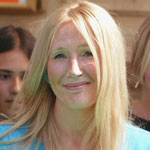 Nov 10, 2013
As readers may recall, a fundraising event was held for J. K. Rowling's charity Lumos at the Warner Bros. Studio Tour London a few nights ago. Rowling was interviewed by the BBC during the event and talked a bit about the charity's significance to her. She also spoke a little bit about Harry Potter, including a little bit about penning the "Fantastic Beasts and Where to Find Them" movies. You can watch the interview videos here and here or below.

Many thanks to SnitchSeeker for the tip.
Additionally related to the fundraising event, Emma Watson tweeted a picture from the Studio Tour of her posing with her double made for the Second Task scene in the "Goblet of Fire" movie. You can see the picture here.