Mary GrandPre Discusses Harry Potter, 15th Anniversary Covers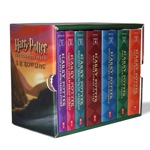 Nov 14, 2013
Entertainment Weekly has a new interview with Mary GrandPre, who was the first illustrator for the US editions of Harry Potter. In the interview she discusses her style in illustrating the Harry Potter books, as well as what she thinks about the new 15th anniversary illustrations:

In the Potter books, there is one overall color to your cover illustrations. Where do you come up with that color " discussions with publisher, J.K. Rowling, or your own interpretations of the tone of the book?
Yeah, I think it is the tone of the book. A lot of times with J.K. Rowling's writings, she's very descriptive and there's a lot of visual clues throughout the book. The first three books were kind of a mix of jewel tones, and then the art director and I thought for the remaining books it might be nice to call each one out with a specific color. The fourth one was the green, fifth blue ' and that was that moody time when Harry was going through puberty and it was an emotional time; almost draining. And then the sixth book was green, and I just think there was a lot of descriptions using green, ˜the green light coming from the cave' and all of that, and the last book was that warm golden tone that kind of [symbolized] that final, triumphant color. We kind of tried to find a color that was symbolic of the story and use it on the cover.
…
Have you had a chance to see the new 15th anniversary covers?
I got a little preview of them before they came out and I think they did a really nice job. I think they just wanted to give it a new look without straying too far from what I had done. I think it was a pretty smooth transition. I'm happy with them; I think they look great.
You can read the rest of the article here.