Potter Takes EW's 'Best YA Ever' Title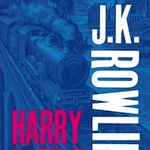 Nov 25, 2013
Some awesome but unsurprising news coming out of Entertainment Weekly that will no doubt have Potterheads thrilled and also nodding their heads.
EW readers cast their votes for the greatest YA Novel of All Time, and good ol' HP took home the crown. That's right, Entertainment Weekly readers decided that J.K. Rowling's Harry Potter series was the greatest of all time, in the category of young adult lit, anyway.
For us Potterheads, it's a no-brainer. What other YA book has done so much to shape a generation of people? None. We all know the amazing and profound impact that Harry's had on our lives, and it's obviously reflected in the way readers voted in the poll.
Not to say that it didn't have stiff competiton. Oh no, dear reader, the stakes were high. Potter squared off against such YA heavyweight's as John Green's The Fault In Our Stars, Stephen Chbosky's The Perks of Being a Wallflower, Veronica Roth's Divergent trilogy, The Maze Runner, and more.
In the end, it came down to our much-beloved TFioS versus The Boy Who Lived.
But then something interesting happened. John Green, being the marvellous and thoughtful man that he is, conceded the vote to Potter on his tumblr. He said, "HP is the most important story for a generation of readers and is one of the central reasons that my career even exists, so it's a bit silly even to be in the ring with it here at the end."
And what a point he makes. John's work has reached a remarkable number of people, young and old alike, and delighted them with his wit, insight, and characters. But even someone as talented as John Green knows that he stands as only a drop in the pond next to the collected impact of Mr. Potter. I think EW did an excellent job of summarizing it themselves:
With that, Green just about sums things up. The Fault in Our Stars is a great book. But to millions and millions of people " old, young, anywhere in between " Harry Potter is more than that: It's a cultural beacon, a secular religion, a way of life. And a full six years after the final book in the series was published (and two years after the final film adaptation's release), the saga's impact has hardly diminished. There's simply nothing else like Harry, and there may never be anything like him again " despite the best efforts of publishing houses and movie studios alike.
So here's to Harry, still topping lists, still ingrained in popular culture, long after his wizard robes were hung up.