Universal Studios Announce "A Celebration of Harry Potter"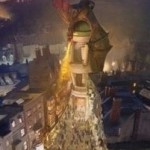 Dec 19, 2013
We let you know yesterday what scant details we knew about "A Celebration of Harry Potter," and now the floodgates have been opened. Florida residents and Potterheads should get fired up over this news: Universal Studios is hosting a big Potter bash at the park from January 24 – 26, 2014, and they've got a big ol' list of attendees you won't want to miss.
Besides panels with LeakyCon-favorites MinaLima, Wand Combat master classes with the world's only wand combat choreographer Paul Harris, and a chat with Potter set designer Alan Gilmore, they've lined up a Q&A with some of the talented actors that brought the Wizarding World to life. Who might you ask? Well none other than James and Oliver Phelps, as well as perennial LeakyCon guest Evanna Lynch.
Attendance is free with any Universal Orlando admission or an annual pass. Admission to the panels is on a first-come first-serve basis, however, so if you want to guarantee a spot, make sure you arrive early!
Universal has promised more details in the new year, but for now, here's what they had to say about the experience:
A Harry Potter Tribute
"A Celebration of Harry Potter" will kick off with a special evening event starring several cast members of the Harry Potter film series and award-winning artist Kazu Kibuishi, who recently re-imagined the Harry Potter book covers for Scholastic and beautifully captured pivotal scenes from the enchanting Harry Potter stories. Guests will enjoy film clips, Q&A sessions with cast members, and get a glimpse of new details about The Wizarding World of Harry Potter ' Diagon Alley, opening summer 2014
My Life on the Harry Potter Film Set: Talent Q&A's
Actors from the Harry Potter films share what it's like to work on a major motion picture and be part of film history.
Dueling Demonstration & Wand Combat Masterclass with Paul Harris
Warner Bros. Studio Tour London ' The Making of Harry Potter will present a spellbinding masterclass with the world's only Wand Combat Choreographer, Paul Harris. Paul choreographed the epic battle scene in Harry Potter and the Order of the Phoenix and will be on hand to teach you the technique behind wielding a wand.
Graphic Design for the Harry Potter Films with MinaLima
Graphic designers Eduardo Lima and Miraphora Mina from the studio MinaLima will discuss their ten-year involvement in establishing the visual graphic style on the film productions of Harry Potter and present some of the iconic props they created for the films, including the Marauder's Map, the Daily Prophet and The Quibbler.
Bringing the Harry Potter Films to the Theme Park ' Set and Prop Design of The Wizarding World of Harry Potter
Harry Potter film and theme park Set Designer Alan Gilmore and The Wizarding World of Harry Potter Prop Master Eric Baker will present a look at how ideas move from the books to screen, and then become real-life theme park experiences.
Go Behind the Scenes of Pottermore.com from J.K. Rowling
Pottermore's Creative Director gives an exclusive insight into the creation of Moment artwork for Pottermore.com, and a look at the next instalment of Harry Potter and the Goblet of Fire. Plus, get ready for an exclusive reveal as he shares his favorite upcoming new entry from J.K. Rowling.
As well, Universal is planning to hold an Expo during the course of the weekend, details of which are below:
The Harry Potter Expo will be held inside a Universal Orlando soundstage and will be open to guests throughout the weekend. The expo will include booths and exhibits that will give guests deeper insight into the various manifestations of the Harry Potter series.
Harry Potter: The Exhibition
Guests will get an up-close look at the artistry and craftsmanship that went into creating the iconic costumes that have appeared throughout the Harry Potter film series. They will also have the opportunity to get sorted into Hogwarts houses during a Sorting Hat experience.
Warner Bros. Studio Tour London
This interactive experience will feature a duelling presentation by the world's only Wand Combat Choreographer, Paul Harris.
MinaLima
Limited edition artworks and reproductions based on original prop designs will be on display, including iconic pieces, such as the Marauder's Map and the Daily Prophet. A selection of original graphic props from the films will also be on display, and on-hand to meet guests will be Miraphora Mina and Eduardo Lima.
Pottermore from J.K. Rowling
Go behind the scenes of Pottermore.com from J.K. Rowling. Find out how Moments from Harry's story are created from the first sketch to the final splash of color, get an exclusive look at artwork that has not yet been released, and experience Pottermore.com for yourself ' defeat your opponent in a wizard's duel or try your hand at brewing magical draughts and potions.
Scholastic
Celebrate the 15 th anniversary of the U.S. publication of Harry Potter and the Sorcerer's Stone and share your message about what Harry Potter means to you. Award-winning artist Kazu Kibuishi, who recently reimagined the Harry Potter book covers, will be signing posters at limited times throughout the weekend.
United States Postal Service
Guests can check out the limited-edition Harry Potter collection of 20 new Forever stamps, featuring images of Harry Potter, the extraordinary boy wizard, and the adventures he encounters with the friends, heroes, villains and creatures that make up his world. Also, see collectible products featuring the stamps, meet the stamp art director, and get special cancellation postmarks commemorating this celebration.
What a line up! Tell us in the comments if you plan on attending.