Dan Radcliffe Talks "The Cripple of Inishmaan"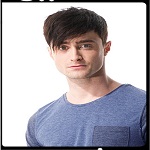 Feb 11, 2014
In a new interview, Dan Radcliffe discusses his role in "The Cripple of Inishmaan," which will be premiering on Broadway in April, and how it's similar in terms of physical challenges to playing Harry Potter:
"It is never specified in the play exactly what ailment Billy has ' you just have clues in the text, which says he has one arm and one leg crippled' Radcliffe explains. "I arrived, with the help of a friend, at the conclusion that it could be a specific type of cerebral palsy called hemiplegia. And then I worked with a woman who is a vocal coach but who also has that type of cerebral palsy. We worked together, on and off for about three months before rehearsals started, just learning about the condition and the mechanics of it, and how that affects people in everyday life. Most people with this type of cerebral palsy often come up with amazing solutions to problems that I would never have thought of, so it was a really fascinating thing to learn about."
Radcliffe says he developed a love for physical challenges on the Harry Potter movie sets, his training ground as an actor from age 11. "Potter was a very physical role and I got to do so many stunts and so many different types of getting hit or falling or climbing up something. There are a couple of very physical moments in Cripple for Billy ' one is at the end of the show, and one, a moment early on, where he has to climb down a wall in our production."
"The fact that I get to do so many different things is one of the parts of my job that make it incredibly fun' Radcliffe continues. "Maybe the fact of playing one character in one environment for quite a long time built up an energy to want to get out after Potter and grab as many different things as possible; you are constantly learning something new, so you are always in a very receptive state' he reflects.
You can read the rest of the article here.