Dan Radcliffe and Rupert Grint at What's On Stage Awards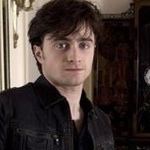 Feb 23, 2014
Dan Radcliffe and Rupert Grint both appeared and won awards at the 2014 What's On Stage awards in London. Radcliffe won the award for Best Actor in a Play for his work in "The Cripple of Inishmaan," while Grint won the award for newcomer of the year for his work in "Mojo":
The Harry Potter star was named Best Actor In A Play for his role in The Cripple Of Inishmaan. Upon accepting his gong, he said: 'I am deeply honoured to receive this prestigious award.
'I accept it on behalf of the whole cast who together helped make this production of The Cripple Of Inishmaan a truly joyous experience for me as an actor.
'I'd also like to thank Michael Grandage for his leadership and inspirational direction, and I'm absolutely thrilled to now be given the opportunity to take Martin McDonagh's achingly witty and poignant play to Broadway.'
His fellow Potter star, Rupert Grint, also enjoyed success on the night.
Grint was named the London newcomer of the year for his West End debut in Mojo – an award which Radcliffe won previously for Equus.
You can read more and see pictures of Radcliffe and Grint's reunion here.