Universal Studios Diagon Alley Expansion Open Today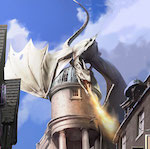 Jul 08, 2014
The Diagon Alley expansion at Universal Studios Florida opened to the public today and, as expected, Harry Potter fans flocked to the park to see it:
Parkgoers stood in a snaking queue for at least two hours to get into the new Wizarding World of Harry Potter — Diagon Alley. Many then joined yet another line to board Harry Potter and the Escape From Gringotts, the attraction's signature ride.
By early afternoon, the park's posted wait for the ride reached 450 minutes — enough time to watch the last three Harry Potter movies.
Descriptions of the Escape from Gringotts Ride can be read here, while pictures of opening day can be seen here.