J.K. Rowling dispels rumors on Twitter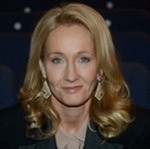 Oct 23, 2014
J.K. Rowling took a writing break today to make a short visit to Twitter, her first since unleashing a riddle upon her followers. She tweeted this morning to dispel any rumors of her partying it up in a London bar, as she celebrated handing in a "romance novel" to her publishers. J.K. Rowling denied being finished with any projects, or that she was even working on a romance novel. She joked that she was "rock and roll" and did like to enjoy a drink even when she hasn't finished a book, as it is her right to do so. The "Rowling stone," as one follower punned, said:
There's a story in today's Mail that I was in a London bar on Monday 'celebrating' handing in a 'romantic novel' to my publishers…

1) I haven't handed in ANY kind of novel to my publishers. I'm only half way through my current book. 2) It isn't a 'romantic' novel.

And 3) (brace yourselves) I sometimes have a drink even when I haven't finished a book. Yes, that's how rock and roll I really am.

@jk_rowling well you are a Rowling Stone…. That was a horrid pun, wasn't it?

J.K. Rowling @jk_rowling · 17h

.@PhoenixorFlame7 One of my old classes (when I was teaching) used to sing the theme from Rawhide at me. The memory still makes me laugh.
Back to work now. See you when I've finished something X