Robert Galbraith's "The Cuckoo's Calling" to be a TV Drama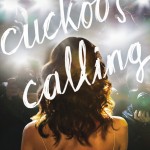 Dec 10, 2014
Hours ago, J.K. Rowling tweeted for her dear friend, Robert Galbraith, to share the exciting news that his first novel, The Cuckoo's Calling, is to become a BBC 1 TV Drama. Our favorite author said that she shared Robert's excitement, and thought it wise to share the news with her fan base as Robert is particularly silent. Rowling tweeted:
My friend @RGalbraith's first novel is going to be a TV drama on @BBCOne. He's very excited, but expressing it with characteristic silence.
BBC 1 has not released any statement thus far, and the only information about the show is coming from Queen Rowling herself. Direct your questions to Twitter, and you may be lucky enough to get an answer from her.