Interview with "Casual Vancay" actress Julia McKenzie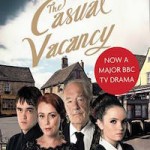 Feb 08, 2015
Julia McKenzie plays the role of Shirley Mollison in BBC One's adaptation of J.K. Rowling's The Casual Vacancy. The Sunday Express conducted an interview with Ms. McKenzie on her role in the mini-series. It is a very different role than what Ms. McKenzie has acted in the past. She talked of her appreciation for trying something new, how she obtained the role, and working with Michael Gambon (Dumbledore), who played her husband. You can read parts of the interview below, and the full interview here:
She's against the grain of the types of characters you've played then?

She's violently different, so this has been wonderful fun for me. You can see through her in a second; the whole front, the face, the outfits, she thinks it gives the village tone. She's a great social climber. She lives on her nerves. She obviously manages Howard, and this is her anchor.

There's a great deal of jealousy directed towards her daughter-in-law, Samantha [Keeley Hawes], which is why she grabs hold of Miles and Samantha's children whenever she can. In any situation Shirley takes control before Samantha can.

Did you work with Michael before?

I've done a couple of productions with Michael. I was going to take the summer off because I'd been working pretty heftily. My manager said I'd be playing Michael's wife and I said, "Well I'll do it then!' The trouble is that Michael makes me laugh so much.
The Casual Vacancy premieres next week, February 17, on BBC 1.