Daniel Radcliffe or Tom Felton as Emma Watson's Beast in "Beauty and the Beast"?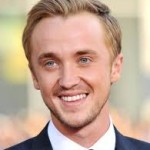 Feb 10, 2015
Amongst rumors of Ryan Gosling joining the cast of Disney's live-action rendition of its classic Beauty and the Beast, Harry Potter fans have been "shipping" other Harry Potter alums as Emma's beastily love interest. Rupert Grint, playing as Hermione's husband in the Harry Potter films, is not amongst fans' top picks. There is word of some hardcore shipment between Emma/Belle and Tom Felton as the Beast. Daniel Radcliffe only encouraged the mayhem with his response and comments on the news of Emma obtaining the role as Belle. International Business Times reports:
Fenton's name started gaining some attention when co-star Evanna Lynch (Luna Lovegood) admitted during her interview with PEOPLE that fans are tweeting her for Tom to play the Beast. Fans who are now campaigning for Fenton and Watson tandem aptly called themselves "Dramiones."

Based in a report, the two co-stars are not going to have a problem with chemistry since "The Noah" actress used to have a crush with Fenton.

Meanwhile, Vanity Fair's Imagined Celebrity Connections featured Daniel Radcliffe and his reactions to Watson's newest Disney role. Written by Josh Duboff, the article quips about the actor calling his former co-star as he tried to congratulate her while suggesting that he could play the Beast for Emma Watson's Belle.

"I'm sure you're gonna go with Harry Styles or one of those Hemsworth giants, but don't forget: I can sing!" according to the publication. "And I've got a lot of hair! And it could be a little Harry Potterreunion."
Please, leave your votes on Dan or Tom, or reactions of thumbs up or down to either idea, below!