Reviews of "The Casual Vacancy" on BBC 1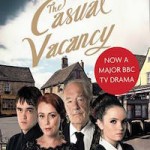 Feb 17, 2015
J.K. Rowling's The Casual Vacancy made its TV debut this weekend. Many newspapers' entertainment critics are releasing reviews and reactions of the show. Snippets from major papers can be seen below. Here at Leaky, in America, we are unable to view the show until April–at that time we will release our own review. If you were able to watch The Casual Vacancy this past weekend, please email us your reactions, or leave them in the comments below.
The Independent claimed that the BBC 1 adaption of The Casual Vacancy was "better drama than the book:" "
"The Casual Vacancy, JK Rowling's first Muggles-only book for adults, was deemed a mild disappointment on its 2012 release, but as a three-part TV serial, it's much more satisfying…In book form, The Casual Vacancy's lefty politics irritated some – the Daily Mail's Jan Moir called it "500 pages of relentless socialist manifesto". On screen, however, these characters are too well rounded to be dismissed as mere mouthpieces. Partly that's down to the cast. Kinnear, Gambon and Keeley Hawes are all as good as ever, but The Casual Vacancy's teenagers are also impressive, particularly Abigail Lawrie as worldly-wise Krystal Weedon, a sort of  sink-estate Hermione."
The Mirror said that the instant best-seller of J.K. Rowling's first adult novel had been "adapted into a brilliant three-part series:"
"I hadn't read the book beforehand," admits Keeley, 38, who won praise for her role in last year's gritty cop hit Line Of Duty. "But as soon as I landed the part of Samantha I devoured it and loved it. She's such great fun to play and is my favourite character in the book. I couldn't believe my luck."

"Samantha is horrible," grins Keeley. "There are so many layers to her. From an acting point of view it's great to do something that's adapted from a book as you have all that background there that isn't necessarily in the script."

"Of all JK Rowling's books, The Casual Vacancy is the one most frequently borrowed from libraries. It's like a modern-day Dickens."
The Guardian called The Casual Vacancy where "The Archers meet Benefits Street:"
The Casual Vacancy is part Shameless in Dibleyshire and part mashup of The Archers and Benefits Street. Behind the facade of mellow Cotswold stone live cold-hearted profiteers of austerity-years middle England, hoping to airbrush out the underclass as part of a soulless gentrification project. If they aren't all Cameroonian lackeys, it's because they like Farage's stance on Romanians.
Another Guardian article stated:
Now the novel comes to the small screen, in a much-anticipated adaptation, with a star-laden cast including Michael Gambon, Keeley Hawes and Simon McBurney. Rowling's fictional town of Pagford is given a honeyed-stone, Farrow & Ball gloss – the opening sequence of the first episode seems gilded compared with the image I conceived when reading the novel, but then bins, a skip, graffiti and vandalism serve as a reassurance that Rowling's realist vision is intact.

Or is it? The grim but appropriate ending has apparently been softened for TV, to give viewers a hint of redemption. But the hardness of her characters remains. Rowling's allegiance is always to the young and put-upon, however vicious their tongues. Abigail Lawrie is a ferocious Krystal, Rowling's screwed-up answer to Dorothea Brooke. For the nicest character, there's a shock in store. The weariness creasing the face ofRory Kinnear (playing the councillor Barry Fairbrother) lends tomorrow's episode a rather melancholic air.

One of the best things about the TV series might well be that it distances the work from its author's inordinate fame. Watching Kinnear, Gambon, Hawes and McBurney do their glorious thing, I forgot the name JK Rowling altogether.
A more informal review from The Guardian can be read here.
The show also drew 6.6 million viewers, according to The Guardian.